Who Was David Lee Powell?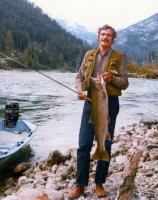 David was a father, outdoorsman, poet, romantic, and teacher. He died in Tucson, Arizona on September 21, 2009.
David was as unique an individual as they come, with a cornucopia of interests, experiences, and opinions. Aside from raising four sons, David would assert that his greatest accomplishments came during his 40-year career as a student and professor of literature and culture. He was a faculty member at the Evergreen State College in Olympia, Washington from 1973-2002 and was known for his powerful lectures and uncensored critique of the cultural status quo.
A Korean War veteran, David saw firsthand the horrors of war, and he spent the remainder of his life in pursuit of peace by exploring and exposing the roots of injustice and inequality. Throughout his life he sought refuge in nature and solace in classical music.
Now liberated from years of physical pain, David is surely in the comforting arms of his god, no doubt steelhead fishing while taking pause between casts to meditate on the words of his intellectual masters.
He is survived by his sons, four grandsons and two granddaughters, who all loved him very much.
Memorial Service Information

A memorial service was held at The Environmental Learning Center at Millersylvania State Park at 2 PM on Saturday November 7, 2009.
Poetry

David was a powerful poet, who wrote of deep, intense, and often unpleasant emotions. We will be posting his poetry here as we get it prepared for online distribution.
FIXME: talk about copyright, post marrowstone lines
Which David Lee Powell Is This?

Since there seem to be a few others around the internet, it seems worth disambiguating. This is a memorial site for David Lee Powell, Ph.D., a college professor, most significantly at Evergreen, who lived most of his life in Olympia, Washington, USA.
This has nothing to do with the marginally famous Texas inmate named David Lee Powell or the completely seperate musician named David Lee Powell. None of these three people named David Lee Powell have any relationship to each other as far as we know.